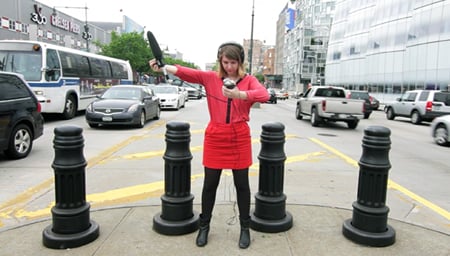 It doesn't matter if you're shooting a wordy rom-com, a vérité documentary, or your grandmother's wedding: getting high-quality, audible sound is always necessary.
With this in mind, finding the right microphone (at the right price) is as imperative as finding the perfect camera, lights, or breakfast burrito supplier for you next film shoot.
Before you film
In order to choose the right microphone, you first need to know what kind of sound you'll be recording, in what environment, and from what distance. For example, is there dialogue in most of your scenes? Are you shooting from close-up or a large distance? Do the scenes take place outside or in noisy locations?
#protip: it's usually best to avoid shooting conversation on city streets at rush hour, in malls on Saturdays, and factories where lawn mowers are made.
The kind of dialogue, shot, and location you're shooting is going to dictate the kind of microphone you can use. If you're shooting chit chat from a snazzy, super wide angle (i.e., a window, crane, or rooftop), then a boom mic is out of the question. However, if you're shooting a cozy scene of a couple whispering sweet nothings to each other in bed, then a boom mic dangling just above the lovers will do the trick perfectly!
With this in mind, if you're planning on renting or buying microphones and sound equipment for a specific project, don't make any decisions until the script, shot list, and/or shooting style have been decided upon!
How to choose your mic: three favorites explained…